Fully Supported Rail Trail Tours
farOut App * Tours to do Yourself
Amazing Country Australia
Great Southern Rail Trail
Grand Ridge Rail Trail
farOut App * Rail Trails and Cycle Paths by State
farOut App * Long Distance Cycle Tours
farOut App * Networks
Local Knowledge, Confidence, Freedom 
Ride your Adventure. As far as you like!


Long Rides, Short Rides, Day Rides.  All over Australia.
Mix of wild coast and green country. Choose when you go and Take what you need. 
NSW South Coast Cycle Paths and South Gippsland Rail Trails 
Tour information for rides on on Rail Trails and Cycle Paths
Free on farOut APP. Available on APP stores.
Follow the FarOut App to enjoy this ride on one of the best rail trails in Victoria
The V Line Bus travels along the trail multiple times a day. It takes people but not bikes.
This Service allows you to reach your car when you need to.
Bike Hire – Electric 
Hire your ebike to ride the Great Southern Rail Trail with Great Southern Rides, located closeby the Great Southern Rail Trail in Leongatha
We love cyclists and have a
Alkira House on Bruce for up to 6 cyclists.
Alkira Garden Studios 90 McCartin St each for 2 cyclists
Cycle Tour Itineraries to use with your farOut App
Just to get your started.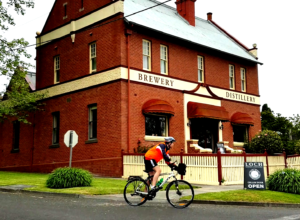 Fully Supported Self Guided Cycle Tours on the Great Southern, Grand Ridge and Bass Coast Rail Trails
Choose 2 of the offers below – or check out our self guided, fully supported tours on the Great Southern, Bass Coast and Grand Ridge Rail Trails